WANT TO expand your world beyond your wildest dreams?! Virtual reality makes anything and everything possible. 
WANT TO feed mackerel to a school of killer whales in the middle of the Atlantic Ocean? 
WANT TO transport to the Jurassic period and walk side by side with a brontosaurus while pterodactyls the size of planes eye you for lunch? 
WANT TO hunt the undead with an AR15 in a battle for survival across a blistering hot, post-apocalyptic Arizona? 
oasisVRX is your destination for amazing life experiences and the BEST part is, you can experience all of this in ONE SINGLE DAY! Your experience begins the moment you walk through the doors of oasisVRX where our goal first and foremost is putting smiles on faces.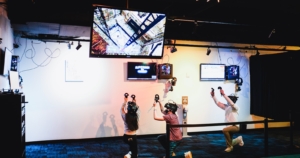 Free Roam 
WANT TO fight the Zeeds inside a Galaga Starship with a laser bazooka? 
Say goodbye to controller-based movement and say hello to the untethered action experience that lets you freely roam around in the real world. 
No boundaries just free roaming! "Life size" gaming in a free roam arena is nothing short of amazing! 
Blast alien intruders in outer space with your friends or don your gloves in a good ole' fashion snowball fight.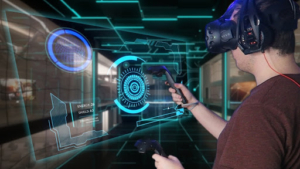 Escape Rooms 
WANT TO join the emergency team tasked with saving millions of lives before the secret research station Asgard plunges to earth? 
WANT TO plunge into a world of real magic where THE Cheshire Cat will guide you through the enchanted thicket of the Dark Forest? 
With virtual reality there is no doubt you will be fully immersed in the riddle. At oasisVRX our high-quality escape rooms erase all the barriers to the real and virtual world. This is essential to create the perfect combination of anxiety, urgency, and fantasy that are vital for the best escape rooms experience.
You can join us every Wednesday, Thursday, and Friday when the sun goes down for our exclusive VIRTUAL REALITY ESCAPE NIGHTS. You and your friends get to discover clues and complete puzzles with the goal of "escaping the room "while escaping reality! 
Currently we offer over 10 virtual reality escape rooms for you to escape!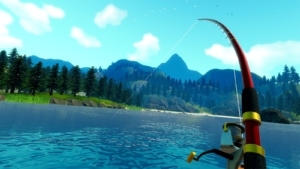 Chill & Relax 
WANT TO escape into a world of peace and calm atmospheric environments surrounded with breathtaking immersive sound and color?
YES, it is possible to achieve a sense of relaxation and bliss at oasisVRX. 
"Beam" yourself into one of our chill & relax experiences and lay back in the perfect chair secluded in our "quiet corner" eliminating all distraction. WARNING we have had several people doze off!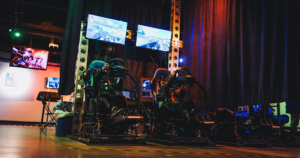 The Loco Motion Zone – Hi-tech racing and roller coaster simulators. 
WANT TO jump in a Red Maserati 530HP Levante GTS rippin at 220 mph in Daytona? 
At oasisVRX over the top immersion is the name of the game. Shake off your nerves, put on a VIVE headset , jump in the motion seat, strap into your four-point harness and hang on tight. It is a thrill you will never forget. Our popular locomotion zone is jam packed with everything racing and roller coasters. 
But the experiences do not stop there… 
WANT TO have a birthday party and not worry about any details? 
WANT TO re-engage your small team in a private fun setting? 
At oasisVRX we host special events, birthday parties for any age, corporate team  bonding events. White glove service at every turn! We are BYOB destination and if you want "eats & drinks" catered or a cocktail hour on the outside roof deck, want a meeting room for business before fun just ask, we love planning and partying… visit us today!