Access over 50 amazing VR Xperiences In your own private station.
Amazing parties for ages 6-96!!
Book a 30 or 60-minute session
– Car Racing Simulators
– Roller Coaster Simulators
Yes, the seats actually move up and down & side to side
It's Simple BUY MORE GET MORE!!
Give the Gift of Xperience with an oasisVRX Gift Card
Team Bonding, Events, Celebrations
Aside from getting everyone set up and helping with the Virtual reality as necessary, they offered and helped us with the setup, clean up and even bringing the leftovers out to the car! They understood to keep to the clean, nice games that we preferred.
Your staff was really prepped well. We ended up setting up one more table and making one big square with the chairs all around it. I appreciate all your help and will definitely recommend to others as I'm sure our whole group will too!
The place is spotless and the people who work there are super helpful and professional. I can't wait to go back.
Took 13 of my workers there for our year end team building. Lot's of fun, great staff!
The kids and adults had a fantastic time! Oasis VRX made the whole process easy.
This place is simply AMAZING. I took my 2 sons (ages 13 & 6) & my husband there and they enjoyed themselves.
I'd recommend oasisVRX to anyone looking to have a great time either with family or for a corporate function too. Hats off and well done!!!
The workers are extremely pleasant, friendly, helpful and enjoy their job. So much so that the kids are asking to go back.
I would recommend this place for kids of all ages- even adults!
What an AMAZING experience!
Outstanding birthday party for my 12-yr old son! Staff was amazing -- very attentive.
My family and I played in the free roam arena shooting aliens, while being able to freely walk around, without bumping into any walls or people.
It's definitely a fun activity for all age groups. We will be going again real soon.
This was the best birthday party I ever had for one of my kids. Every child loved it!
This is one of the best parties my son has ever had -- we were thrilled!
One of the coolest experiences ever! The technology is amazing and my whole family had a blast!
They were more than happy to help us all. We brought in food and drinks and had a lot of laughs.
This experience definitely puts you in the game!
I'm amazed with oasisVRX and love their VR technology.
I rode the roller coaster while strapped into the motion chairs and it was exactly like being at an amusement park, minus the crowds!
The staff is incredibly friendly and knowledgeable. Great experience!
A very cool place where you can do some really excellent VR experiences!
A great idea for date night! Staff are very knowledgeable and patient.
Kimberly was so helpful! Very patient with all of these kids!
Oasis was a great experience for me and my group. I brought 50 students and 10 staff and Todd and Scott made sure that we had a fantastic time. All the of games from the shooting to interactive boxing and racing were very engaging for our kids. They had a great time! I go on at least 15 trips a summer with my program and this one was easily at the top of my list. I would recommend to anyone looking for a great time with their kids of any size.
My son and friends had an amazing birthday party. Our hosts Natalie and Carly were overly accommodating. They made the experience effortless and fun for all. Highly recommend for parties and request these two girls if you can!
Always friendly service, fun experience, for the kids and helpful staff. Today was a holiday and normally they're closed. But I called just to be sure and since no one picked up I figured they were. Scott called me back a few minutes later and left a message to say he was open and to call back if I'd like to make a reservation. We came and enjoyed every minute of it . A definite treat for the kids and parents
Our kids had a blast!! My daughter is six and my son is eight, great for all ages. Not sure if I had more fun watching or them playing! Definitely coming back!
I hosted a corporate event with the helpful planning of Scott. The staff was so attentive in both setting up all the VR equipment as well as organizing the coolers of ice, plates and utensils for our food. There were so many different experiences to choose from that the staff tried getting to know the team in order to propose something they'd like. This included a form of pictionary which was fun to play in a group, bowling and tennis, underwater scubadiving and more. Thanks Scott and Oasis VRX team for a fun afternoon.
Our 10 year old had the best party ever, thanks to staff and out hostess Kim everything was perfect!!!!
Follow Us On Social Media
To Receive Exclusive Deals & Offers
Questions? We Have Answers! Check Out Our Q&A Page
FOUR Professional Racing & Roller Coaster Simulator Stations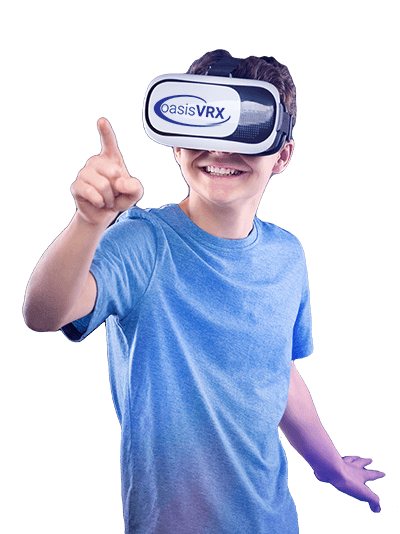 This month's Featured Xperience
You are Adonis Creed, fighting toe-to-toe with the world's top opponents to establish your boxing legacy. This intense cinematic experience features new Phantom Melee Technology for impactful VR melee combat so you can train, fight, and win like Creed.